Foreign Languages Department
French Film Festival
The Fullerton College 9th Annual French Film Festival will be…
Wednesday, April 11, 2018
All movies begin at 7:30 PM in the Campus Theater. Ticket sales begin January 29, 2018 through the Fullerton College Box Office. FREE parking on the 3rd and 4th floor of the Fullerton College parking structure.  Sponsored by: The Humanities Division (French Film Festival Committee).
Box Office Information will be posted soon!
French Film Festival Highlights – 2017
Look for the Fullerton College French Film Festival next Spring 2018!
Samba/Samba
March 21, 2017
SAMBA reunites THE INTOUCHABLES' acclaimed directing duo, Olivier Nakache and Eric Toledano, with award-winning actor Omar Sy in a richly entertaining chronicle of an undocumented kitchen worker battling deportation from his adopted home in Paris.
When Samba (Sy) is suddenly ordered to leave France, he enlists the help of Alice (Charlotte Gainsbourg), an emotionally vulnerable immigration advocate with little experience but plenty of heart. As the immigrant aspiring chef and the burned-out corporate executive tentatively explore an unexpected bond, they inspire each other to reinvent themselves in this vibrant comedy full of tender humor and heartfelt optimism.

The Wave/Die Welle
March 22, 2017
When Rainer Wegner (Jürgen Vogel), a popular high school teacher, finds himself relegated to teaching autocracy, instead of anarchy, as part of the school's project week, he is less than enthusiastic. So are his students, who greet the prospect of studying fascism yet again with apathetic grumbling: The Nazis sucked. We get it. Struck by the teenagers complacency and unwitting arrogance, Rainer devises an unorthodox experiment. But his hastily conceived lesson in social orders and the power of unity soon grows a life of its own.
War of the Buttons/La Guerre des butons
March 23, 2017
Director Christophe Barratier adapts author Louis Pergaud's novel set in the French countryside during World War II, which follows the escalating feud between two groups of youths from rival villages who seek to collect each other's buttons. The children of Longeverne have never liked their peers in the neighboring village of Velran, and as war rages throughout Europe, tensions among the youths spike. But rather than using bullets and guns to defeat their opponents, the children create an innovative new means of achieving victory: Upon capturing one of their adversaries, the conquerors claim the buttons right off of his clothes. At the end of the war, whichever team possesses the most buttons will be the undisputed winner. As a result, 13-year-old Longeverne leader Lebrac and his loyal young army wage a relentless campaign to claim every button from their enemies in Velran. Meanwhile, a pretty young Jewish girl named Violette arrives in Longeverne from the city. For Violette, hiding out with her enchanting aunt Simone is a matter of life or death. And the more time Violette spends in Longeverne, the closer she grows to Lebrac. Before long, it becomes apparent to Lebrac that there's much more at stake in this battle than the buttons on his rivals' jackets.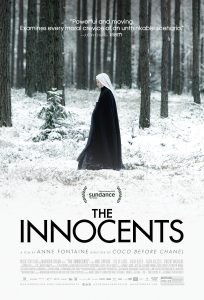 The Innocents/Les Innocentes
March 24, 2017
In 1945 Warsaw, a French Red Cross doctor (Lou de Laage) is called to a convent on an urgent matter. Once there, she not only helps a nun give birth, but discovers that several other women at the monastery are also pregnant. Soon, she is tasked with keeping the secret of what happened at the convent during World War II. Directed by Anne Fontaine, The Innocents made its world premiere at the 2016 Sundance Film Festival.
French Film Festival Highlights – 2016
Mark your calendar for March 21-24, 2017 and join us next year at the Fullerton College French Film Festival!