Humanities Tea - Award Ceremony
English as a Second Language Department Awards
Achievement Awards
The ESL Achievement Awards are given to outstanding students who are making exceptional progress in mastering English as a second language.
2021 Award Recipients
---
Katherine Flores Salguero
I am very pleased and humbled to receive this ESL Achievement Award. Firstly, thank you so much to the Humanities Division for awarding me with such a huge honor. Secondly, I want to thank the Professor Arthur Hui and Tutor Ms. Kaitlyn, who guided me through academic problems and for creating a very stimulating and fun classroom environment. Finally, I also want to thank my most significant supporters, my parents.
-Katherine Flores Salguero
It is a privilege to present Katherine with one of our ESL Awards. Katherine has been a great classmate to her fellow students and constantly works to improve her writing and language skills. She actively participates in our Zoom class and attends Hornets Tutoring and Writing Center sessions on a consistent basis. Katherine is driven to improve her academic English skills, and her enthusiasm for learning English and working with her classmates are displayed every class.

– Professor Arthur Hui
---
Nhu Huynh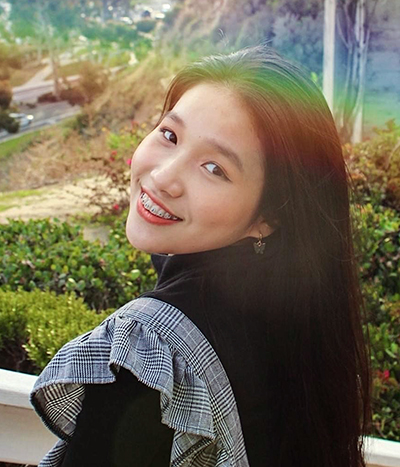 By taking ESL 190 with Professor Garcia, I had a golden opportunity to practice and improve my writing skill. I learned how to vary sentence structures, use advanced academic vocabulary, and write different kinds of essays, such as summary-response essays, argumentative essays and research papers.
– Nhu Huynh
Even during a challenging semester filled with uncertainty, Nhu never missed a Zoom class. She regularly provided insightful responses and questions on the topics of agriculture, politics, leadership, and poverty. Nhu would also support her classmates when they encountered obstacles with their internet connection or with their writing. She even took the initiative to contact me whenever they needed help or had an issue. It was a delight to have Nhu in my ESL 190 class in the fall of 2020. I am certain that she will continue to challenge herself and to take risks throughout her academic journey.

– Professor Corinne Garcia
---
Edgar Nunez
I have been attending FC for three semesters in which I learned a lot thanks to my incredible professors and their support. I want to especially thank Professor Ashley Peters for nominating me for this award.
-Edgar Nunez
Edgar Nunez was a joy to have in both my core classes and elective ESL classes. Edgar's warm spirit was present in every class and communication. He always showed warmth and leadership in class discussions and group work, and his presence was an integral part of our class community. Edgar's ongoing drive to apply his developing skills was inspiring to other students. Edgar's positivity and motivation make him worthy of our ESL Achievement Award.

– Professor Ashley Peters
---
Salma Tabbaa
It was a great opportunity to join the Fullerton College ESL Department. Thanks to the Humanities Division for holding this event. Thanks to Professor Tiangco and to all my professors and tutors who have enlightened my knowledge.
– Salma Tabaa
Salma showed great determination in completing the coursework in ESL 190 during the fall 2020 semester despite the challenges brought on by the pandemic and online learning, while also parenting a toddler. Her contributions to the Zoom class encouraged others to speak up and share their ideas and opinions. A moment I will always remember is when she talked about her experiences during the Syrian Civil War to humanize our final unit theme of migration. Salma is highly motivated, and I have no doubt that she will succeed in any of her future endeavors.

– Professor Jefferson Tiangco
---
Xiaoyu (Ray) Watts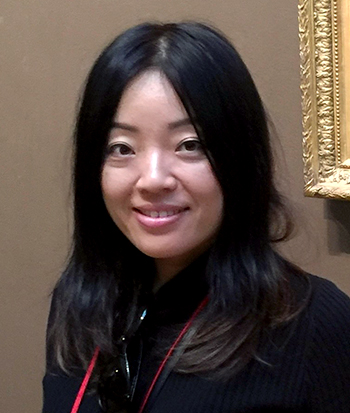 During the ESL class, I gained so many writing and reading skills from Professor Joyce Cain, Ellen Rosen, and Valerie Tuttle. I truly appreciate their dedication to help us learn English! I also wanted to express gratitude to Professor Joshua Ashenmiller (History), Professor Tracy Guild (Psychology), Professor Stephanie Eaves (Sociology), and Dr. Peterson (Counselling)! I always enjoy their classes!
– Xiaoyu (Ray) Watts
Xiaoyu flourished in the Zoom environment. The freedom of having her camera off enabled her to participate in the class without any inhibitions. She often showed up early and stayed after class because she wanted to get to know her classmates and loved talking to them. She was the "glue" that held our class together. Xiaoyu also developed as a scholar and writer. Her essays improved significantly with each successive draft and were timely, informative, balanced, and well-researched. Xiaoyu's curiosity, enthusiasm, and love made the semester unforgettable for everyone in our class.

– Professor Ellen Rosen
ESL Research Writing Achievement Award
The ESL Research Writing Achievement Award recognizes an ESL student who has shown excellence in research essay writing.
2021 Award Recipient
---
Thi Hong Dzien Vu
I want to say thank you to the professors and tutors who have taught me and given me valuable advice so that I can improve my writing skills. Thank you to the ESL Department of the Humanities Division, which holds this competition. The award inspires me to continue studying hard in my courses.
-Thi Hong Dzien Vu
In exploring contemporary issues related to human migration, Thi chose to investigate how climate change is affecting the people of Eastern Africa in her ESL 190 research paper, "How Eastern Africans Tackle Severe Drought." In a time when learning has been hindered by poor internet connections and technical issues, she persisted through the challenges and wrote a well-supported paper citing seven peer-reviewed sources on such an important issue affecting some of the most vulnerable people in the world. This perspective and approach in her academic work is why she is truly deserving of this year's Research Writing Award.

-Professor Jefferson Tiangco