English as a Second Language
Meet Our Students
Meet Robert Moshi. Robert has recently completed the core ESL sequence and is currently working on his transfer credits for a degree in Biology.
Robert recalls his first semester at Fullerton College. He said, "When I joined Fullerton College, I was very shy and did not speak much English, but everything changed when I enrolled in my first ESL course … Because of the kindness of the faculty members at Fullerton College, I am now a very different person than what I used to be many years ago as a student. Thank you for inspiring me to keep going no matter the difficulties in life. I used to think that because I am financially poor, I would not go anywhere in higher education, but this changed when I started learning that nothing is impossible if I work hard on it."
Robert also has some advice for future students. "I would like to encourage all ESL students to use all the helpful and free resources on campus such as the Writing Center, Tutoring Center, and the Skills Center. I would also tell them to never be embarrassed about starting a conversation with a faculty member. Speaking to someone you do not know in a language you do not fully understand can actually be a great step in improving your English. One of the greatest ways to study English is by finding a study partner, someone that is going to motivate you to learn together every day. Stay positive and don't speak negatively about yourself."
After Fullerton College, Robert hopes to transfer to UCLA and finish a bachelor's degree in Biology.
Posted April 2018
Meet Litzia Galvan. Litzia is currently taking ESL 190 with Professor Cain. She credits her ESL classes for improving her use of English grammar and academic vocabulary. "I'm lucky I have great supportive teachers who give me constructive feedback for better coherence in my essays."
After Fullerton College, Litzia is planning to complete a degree in Biological Science at Cal State Fullerton.
Posted November 2017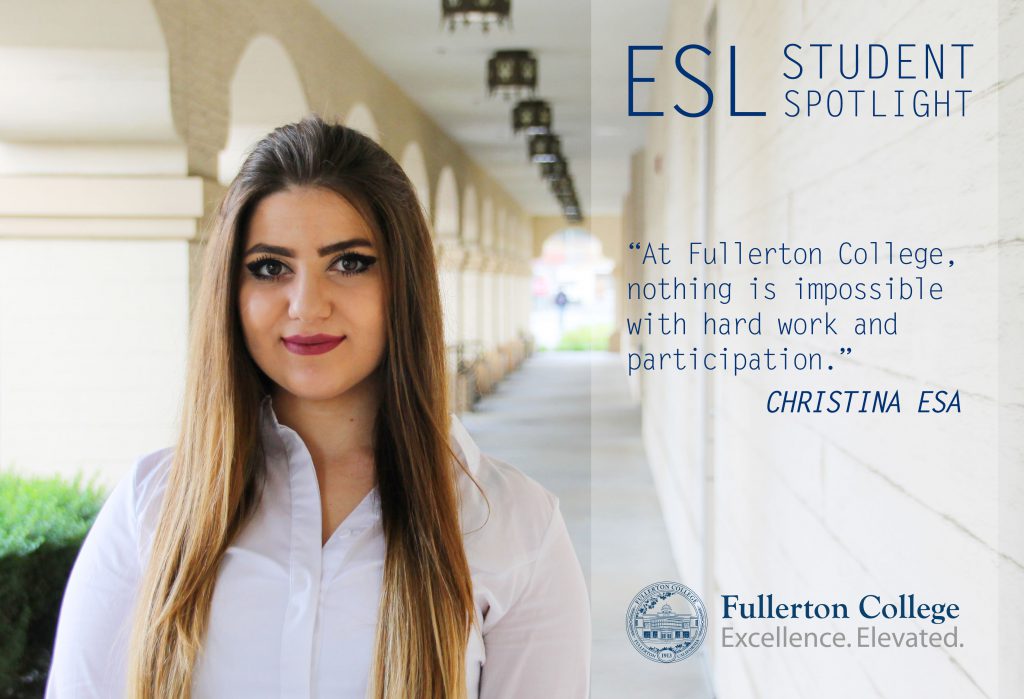 Say hello to Christina Esa!
Christina came from Syria four years ago and started taking ESL classes at Fullerton College last year.
After Fullerton College, she plans on transferring to a 4-year university to complete a degree in Chemistry. She credits her ESL classes for improving her language skills, which has helped her in her other classes at Fullerton College.
She has also recently started a part-time job at Disneyland.
Posted November 2017